Knit 'n' Plush 4 Season Koalas
Author: Linda Date Posted:13 January 2021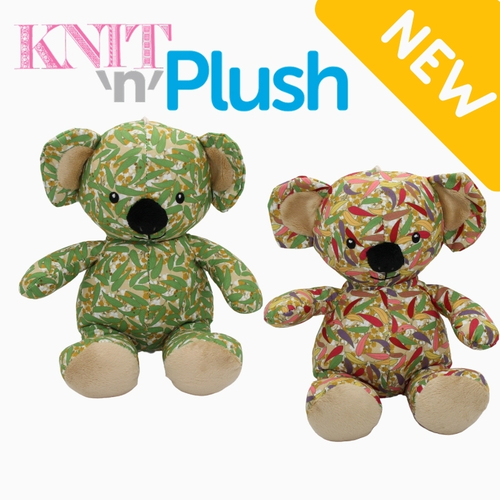 Knit 'n' Plush Four Season Koalas
Summer, Spring, Autumn and Winter
These are our latest unique Eucalyptus leaf design Knit 'n' Plush Koalas collectively celebrating the Australian seasons and the Koalas fragile habitat and food source.
The design was inspired after the catastrophic Australian bushfires that occurred late 2019 and into early 2020 and the unprecedented evastation to Koala populations and their habitats the Eucalyptus trees all around Australia,.
As we all know, Koalas are extremely fussy eaters and their main source of food are the leaves from the Eucalyptus tree.
The biggest threat to Australian koalas is gradual habitat depletion through urban and rural development and the often calamitous loss during bushfire season every year in Australia.
The Currumbin Wildlife Hospital was inundated with injured Koalas during the bushfires. A percentage of the sales of the four season koalas are going to the Currrumbin Wildlife Sanctuary Animal Hospital on the Gold Coast.
One of four uniquie designs celebrating the Australian Seasons - Summer, Autumn, Winter and Spring

These little Aussie charmer are gender neutral, baby friendly and would also suit any little girl or boy. This cuddly koala will be an absolute delight to hold and be a loyal Aussie animal treasure for many years to come.

A percentage of the sale of this item directly supports the Currumbin Wildlife Hospitals ongoing treatment and rehabilitation of Koalas and other Australian Wildlife.
Features:
Roo/Who Plush Toy
Designed in Australia
Makes a unique gift
Soft anf Cuddly
Soft Construction
Recommended for 0+ months
Quality product
Gender Neutral Designs
No Plastic Toggles
Biodegradable packaging
Wash Tag - "If I need a bath, take me to mummy or daddy." Hand Wash ONLY in cold water, do not spin, soak, bleach or wring. Drip dry or dry without delay away from direct heat.
Dimensions- 20cm (L) X 18cm (W) X 12cm (H)
Weight 13 grams