Bunabiri Eco-Friendly Bamboo Fibre Enviroware
Author: Linda Date Posted:13 January 2021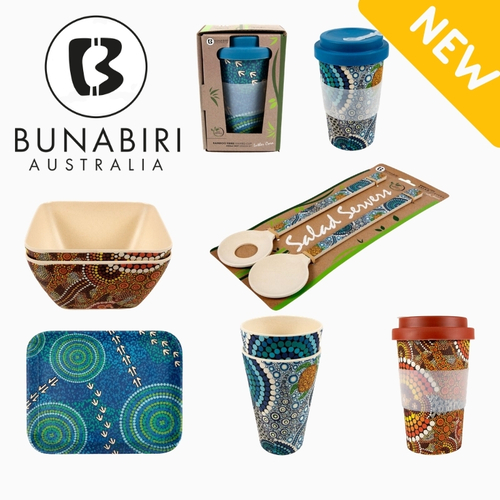 Bunabiri Eco-Friendly Bamboo Fibre Enviroware
If you are looking for eco-friendly product with exclusive larger than life earthy designs then look no further than this stunning range of bamboo fibre enviroware poducts. This unique kitchenware range is made from biodegradable eco-friendly material. Best of all the bunabiri bamboo enviroware is lightweight and travel friendly so you can take it away with you wherever you go. It's also reassuring to know that the enviroware doesnt mind the dishwasher. Beautiful eco-friendly products made from responsibly sourced bamboo not plastic or melamine so that you can make a statement at your next BBQ, picnic or party. Be part of the eco-friendly revolution taking place in Australia.
Indigenous Art - Leading Indigenous artists Colin Jones and Luther Cora are proudly represented on the Bamboo Fibre Enviroware. Royaties paid to the artists on all goods sold.
Range Includes: Cups, Mugs, Tumblers, Plates and Salad Servers.
Features
Australian Indigenous Artist Licensed Design

Made from natural bamboo fibre

Bio-degradable from the earth back to the earth

Eco-friendly

Reusable

Reduce the number of single use plastic bottles, cups, mugs, bowls and plates

Unique Indigenous Designs - designed in Australia

Fresh natural earthy appearance

Dishwasher Safe

Lightweight